Welcome to the wiki
Edit
Starlight is a webcomic written by M. A. Madrone and illustrated by Isune V. The plot follows Kgosi Starbrook, paladin of Syra, and his allies on a quest to save Tylaren, and later more. This wiki is here to put together various information mentioned by the creators in one place or another to put together the world. If you come across anything not already mentioned, feel free to help the wiki be complete by expanding it.
Make sure you understand the rules. Fail to follow them may result in warnings, which may lead up to a suspension.
We are excited to announce that we have 21 articles on our wiki after 543 edits! You can do your part to help by creating a new page, adding a photo, or visiting our forums and asking what needs doing! We appreciate your help.
What is Starlight?
Edit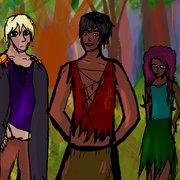 Starlight is a webcomic set on the fictional continent Tylaren, following the adventures of paladins Kgosi Starbrook struggling to prove himself, Sekai of the Wurei tribe attempting to shake off memories of her father, and Tendai of the Wurei tribe. They are assisted by various people such as Kgosi's biggest grudge, Kyvich the guardsmen. It's a somewhat comedic story that will take them far.
The main conflict of the comic is the endless battle between paladins capable of using holy magic and various demons. It does have other side plots, however. It is still young, so there is not much known from the comic itself, but the various informative pages on the website, the text updates made by the writer, and other comments by the author provide enough information to piece quite a few things together.
It updates on Mondays and Fridays. Currently on hiatus until the artist's hand heals.
Latest activity
Edit
Photos and videos are a great way to add visuals to this wiki. Find videos about your topic by exploring Wikia's Video Library.
Community content is available under
CC-BY-SA
unless otherwise noted.